YouTube is a culture now. Life seems to be impossible without it. The site is certainly the best place to surf and stream videos, music or any content. It is a repository for happiness and knowledge.
Most of the music fans visit the site to listen to their favourites, search for famous music or videos that can be saved for offline purposes. And most people are always curious to download videos or audios from the site. This is where YouTube to MP3 converter comes to the rescue.
What is YouTube to MP3 Converter?
YouTube to MP3 converter converts a video into audio. In other words, it clips the audio from any YouTube video to save it as an MP3 audio file. This can be saved on your PC, smartphones, tablet or any other device for offline listening.
To clarify, a YouTube to MP3 converter lets you save the audio from videos available on YouTube as an audio file that you can save for later any device you want.
Top 5 YouTube to MP3 Converters
Today, some several websites and apps let you extract the audio from YouTube videos. Therefore, in this article, we are about to explore the top 5 YouTube to MP3 converters.
However, before we proceed, we would like to inform you that downloading videos or audios from YouTube without the permission of the owner is strictly prohibited. You can read YoutTube's terms of services to understand the copyright permissions well.
Let's get going!
1. Any Video Converter Free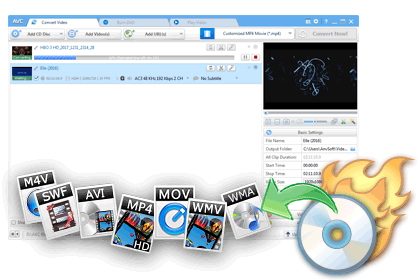 The best and the easiest YouTube to MP3 converter – simply copy and paste. This is one of the fast and flexible tools to rely on. As the name suggests, it is free and lets you download  YouTube videos and turn them to MP3. Moreover, it also helps to convert one video format to a different one. What more on earth do we need?
2. 4K YouTube to MP3
4K YouTube to MP3 is surprisingly quick, flexible and very easy to use.  It allows you to convert a video from YouTube to MP3. Also, it lets you save the clipped audio in OGG and M4A formats. Moreover, you can choose your required speed and quality of the download. Most importantly, you can also use this on sites and apps like Vimeo, SoundCloud, Flickr, Facebook, and others. Hence, the recommendation.
3. 4K Video Downloader
Similarly, like the above-recommended app, this tool also lets you save audio in MP3, M4A, and OGG format from YouTube. And it is not just limited to one site. You can also download videos from Vimeo, Flickr, Facebook, and DailyMotion. Moreover, you can download a maximum of 24 videos in a playlist that steals the show and makes it stand out from the rest of the converters available.
4. Free YouTube to MP3 Converter
With this software, you can download and convert music videos from YouTube to MP3. It has a simple drop-down menu. You can, therefore, utilize to choose the quality and format you prefer for your audio file. Once you have selected from the drop-down, simply paste the URL, and click on the Download button. And, it's done.
5. ClipGrab
ClipGrab as the name suggests – copy the URL to the clipboard and paste it here. And, that's it. Converting made neat, simple and easy. It has a user-friendly interface to make downloading hassle-free for you.  After, pasting the URL, you can choose if you want to download the audio as an MP3. Once selected, simply click on the 'Grab this clip!' button. The MP3 will be yours in no time.
Choose YouTube to MP3 converter the right way
Before you choose from the list of YouTube to MP3 converters, make sure to consider a few things. First of all, see the number of videos you are looking to convert. If it is one or two, an online tool may help. But if it is anything more than two, you must download a desktop application for the same. This is because they are faster, as the data is not processed on a remote server. Moreover, some desktop applications are even capable to convert multiple YouTube videos to MP3 at once.
YouTube to MP3 software is common, popular and many, which makes it easy for you to encounter malware in one of the converters. Hence, we recommend you to choose from the above list as they are trustworthy and are best in the job they do.
Conclusion
These sites and applications suggested in the article will serve the purpose of converting YouTube videos to MP3. They have different features and the level of ease is different. We would also like to highlight that applications are always better as it has more features.
Most importantly, keep in mind that converting a video or downloading anything from YouTube without the permission of the owner is against the terms and conditions of YouTube. Read all the service clause thoroughly before you jump into any action.
And, that's a wrap!